Samsung Galaxy S10 Release Date, Price, News, Leaks etc.
The Samsung Galaxy S10 is poised for big-screen changes.
New Samsung Galaxy S10 rumors point to what may be the most exciting phone of 2019, which makes sense given the incremental upgrade that was the Samsung Galaxy S9. The South Korean company is poised for a major overhaul. Current Samsung Galaxy S10 rumors suggest a phone with a larger screen, maybe one that does away with the iris scanner in an attempt to make the screen-to-body ratio larger than the Galaxy S9 Plus. Every fraction of an inch of space counts.
Samsung did just announce its Samsung Infinity Flex Display, though we suspect that will be on a different foldable model, as the idea we saw in person on November 7 seemed like a concept. In other words, Samsung could launch a Galaxy S10 variant to test the waters with early adopters. Speaking of timing, the Galaxy S10 release date may not be far off. In fact, we could see official hints about the smartphone drop in the next few weeks, namely at CES 2018 in January (sometimes Samsung teases its phone there) or right ahead of MWC 2019 (we expect the phone to launch at this Barcelona-located conference).
Here are all of the Galaxy S10 leaks regarding its in-screen fingerprint scanner and a fresh design.
Cut to the chase
What is it? Samsung's next main flagship
What will it cost? It's sure to be very expensive
When is it out? Probably early 2019
Samsung Galaxy S10 release date and price
Hottest leaks:
The S10 launch event could be February 24, 2019 (one day before MWC 2019)
Expect leaks or at least hints at either CES or in the lead up to MWC 2019
Also, expect the S10 price to remain expensive at $719 / £739 / AU$1,199
The Samsung Galaxy S10 launch date is is likely to be in early 2019. More specifically we'll probably see it at MWC 2019, which takes place from February 25-28. Not only does a leaker claim we'll see it then, but Samsung announced the Galaxy S9 range at MWC 2018, so the 2019 show is the most likely release date.
Samsung doesn't always announce its Galaxy S flagships there, but recent models have all been announced in the first few months of the year, so we'd be surprised if we don't see the Samsung Galaxy S10 by the end of March 2019. Though it could arrive earlier, as we might see it in January at CES 2019 if one rumor is to be believed. That takes place from January 8-11, but that feels too early for such as major announcement, so we'd take this particular Galaxy S10 leak with a fair pinch of salt. Of course, whenever it is announced you might not be able to buy it straight away.
When it does go on sale it's sure to cost a lot. There aren't any Samsung Galaxy S10 price rumors yet, but the Galaxy S9 launched at $719.99 / £739 / AU$1,199, while the Samsung Galaxy S9 Plus went on sale for $840 / £869 / AU$1,349. We'd expect the Galaxy S10 range will cost at least that much when it does arrive.
Samsung Galaxy S10 design and display
Hottest leaks:
Three different screen sizes
A bezel-free and notch-free design
A 19:9 aspect ratio and 1440 x 3040 resolution
According to Samsung's mobile business chief, DJ Koh, the Samsung Galaxy S10 will have some "very significant" design changes and come in some "amazing" colors. One leak from OnLeaks suggests those colors may be Black, Grey, Blue, Red, Green and Yellow. DJ Koh didn't get more specific than the above, but a benchmark for a mystery Samsung phone which could be the S10 points to a 19:9 aspect ratio, which would make it taller than the 18.5:9 Galaxy S9.
Along with that the benchmark suggests a resolution of 1440 x 3040, which would be a slight boost, and there's every chance that to achieve those things Samsung would slim the bezels, fitting a larger, sharper screen into the same size body.
One thing the Galaxy S10 probably won't have though, is a notch, because, as noted by T3, Samsung has taken to Twitter to criticize the notch on the Google Pixel 3 XL, so presumably it won't be going down that route for its next flagship. It could ditch bezels completely though, as Samsung has teased another phone(the Galaxy A8S) in the image below, showing a handset that seemingly has no notch or bezels. This might be achieved by drilling a hole into the screen for the camera, according to one source.
We've also seen a photo, possibly showing a prototype of the Samsung Galaxy S10 (though notably the source didn't refer to it by name but did say "this may be a design beyond", and 'Beyond' is believed to be the codename of the Galaxy S10). The image, which you can see below, shows a handset with a curved screen and almost no bezel on any edge. There seems to be less bezel in fact than we've seen on any other phone, suggesting the front-facing camera may either pop up or be built into the screen.
You can't see much else, but in addition to the power and volume buttons it looks like the Bixby button is making a return – if this photo really is showing the S10 and if nothing changes in the design before launch, which are two big ifs, especially as reputable leaker @OnLeaks has poured cold water on the image, claiming it's fake.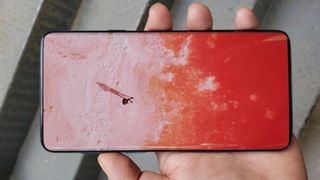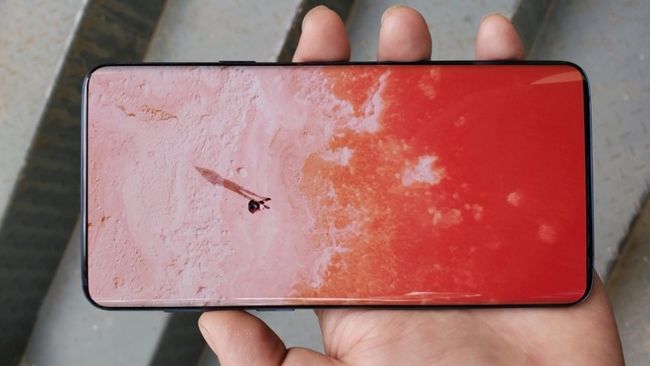 When it comes to the screen though it's worth noting that there's sure to be more than one size. In fact, this time around there might be three.
One of these, apparently codenamed 'Beyond 0', is said to have a 5.8-inch screen which might be flat. That would be the most basic model, but there's also said to be 'Beyond 1', which apparently has a 5.8-inch curved screen, and 'Beyond 2', with a 6.2-inch curved screen. There's also said to be differences in the three models' fingerprint scanners and cameras, which we'll get to in the relevant sections below.
All of that has been given more credence thanks to people familiar with the matter speaking to Bloomberg. Those sources also confirmed the company is experimenting with a prototype that loses the 3.5mm headphone jack.
Will Samsung Galaxy S10 be a foldable phone?
One thing you shouldn't expect is a foldable phone. Not from its flagship Galaxy S10, at least. The Infinity Flex Display concept Samsung showed off on November 7 made it clear: the company's foldable phone design is very much that: a concept.
Samsung could launch a foldable variant to the Galaxy S10, however. It did this with the original Galaxy Note Edge alongside the flat Samsung Galaxy Note 4. While the new look didn't go mainstream in 2014, the concept did become the backbone of future Samsung flagship phones down the line, including on the recent Note 9. A foldable display is clearly the next big idea for Samsung, but it's starting from scratch with thick bezels, according to the steeped-in-shadow prototype we saw at the Samsung Developers Conference.
Samsung Galaxy S10 biometric security
Hottest leaks:
An in-screen fingerprint scanner
An improved 3D face scanner
The picture above is our only real possible sighting of the Galaxy S10 yet (and we use the term 'real' very loosely), but we have heard a number of things about it, and one rumor we have seen pop up numerous times is the presence of an in-screen fingerprint scanner. This would go nicely with the all-screen design that's being tipped for the phone, and would see the Galaxy S10 follow in the footsteps of the Porsche Design Huawei Mate RS and Vivo Nex. A report claims that it will use an ultrasonic Qualcomm scanner, and that Samsung has felt pressured to include it due to Vivo and Huawei both having phones with in-screen scanners.
Multiple separate sources who spoke to The Bell have said as much, adding that Samsung will also look to ditch the iris scanning tech in the Galaxy S10 in favor of an improved 3D face scanner – much like the one found on the iPhone X. We've heard a similar thing from South Korean media, but it suggests that we'll only see an in-display fingerprint scanner as the main way of unlocking the phone. Either way, it's likely the iris scanner will be dropped.
An earlier rumor also talks about an in-screen scanner, stating that while an in-screen scanner wouldn't be ready in time for the Samsung Galaxy Note 9, it would be ready by sometime next year, making the Samsung Galaxy S10 a candidate for one.
Samsung Galaxy S10 camera
Hottest leaks:
A triple-lens rear camera on the top-end model
12MP, 13MP and 16MP lenses
A dual-lens front-facing camera
An analyst reckons Samsung is considering a triple-lens camera for the Samsung Galaxy S10, along with a 3D sensor for augmented reality content. Analyst chatter isn't always that reliable, but it would make sense if Samsung wants to compete with the Huawei P20 Pro and the rumored triple-lens iPhone.
It's also a rumor that we've now heard again, with a source claiming that while the most basic model of the Galaxy S10 might have just a single-lens camera and the middle model might have a dual-lens one, the biggest (and most expensive) version of the Samsung Galaxy S10 would have a triple-lens camera.
An even newer report echoes those camera specs, but adds that the 12MP one will be an f/1.5-f/2.4 variable aperture lens , just like the camera on the Samsung Galaxy S9, while the 16MP lens will have an f/1.9 aperture and a 123-degree field of view, and the 13MP lens will have an f/2.4 aperture. Some or all of the S10 models might also have a dual-lens front-facing camera according to one report, which would give the top model five lenses overall. It's not known what the extra front lens would be used for, but it's likely to improve the face unlock feature if nothing else.
Samsung Galaxy S10 power
Hottest leaks:
A Snapdragon 855 chipset
8GB of RAM
A minimum of 128GB of fast storage
We also have an idea of what might be powering the Samsung Galaxy S10, as it's reportedly going to use the unannounced Snapdragon 855 (at least in some regions). This is said to be a 7nm chipset, which is smaller and likely both more powerful and more efficient than the Snapdragon 845 found in many of 2018's flagships.
The 855 is also said to be capable of supporting theoretical download speeds of up to 2Gbps, up from 1.2Gbps on the Galaxy S9 – though don't expect to get speeds anywhere near this in the real world. Still, it could be a big upgrade. As could the RAM, as Samsung has announced that it's developed an 8GB RAM chip built on a 10nm process. This, while not confirmed for the Galaxy S10, apparently has a data rate that's 1.5 times as fast as current flagship RAM chips and can also reduce power consumption by up to 30%.
One odd report has suggested the phone may sport 12GB of RAM too, but we're inclined to believe the above about an 8GB of RAM mode. Onboard storage could also be faster for the S10, as Samsung is set to start using UFS 3.0 storage in early 2019. This is supposedly two times faster than current phone storage modules and takes up less space, so there's more room for other components. Plus, the minimum size it comes in is 128GB, so if the S10 uses it then all models will have to have at least 128GB of storage.
#Samsung Galaxy S10 name.
We've also heard talk that Samsung might rename the range, launching the next model as the Samsung Galaxy X rather than the Galaxy S10. That might sound unlikely, but Koh Dong-jin, the head of Samsung's mobile division, has been quoted as saying that "we have been thinking about whether we need to maintain the S moniker or the numbering system" so it's possible.
For more Leaks stay tuned with us. See U.